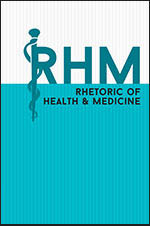 Today, across all sorts of social media places and academic list servs, folks will see the official announcement of the launch for the journal, Rhetoric of Health and Medicine (RHM). While the journal already has manuscripts in review and we've talked to scores of people about developing their work, today is the official launch.
It's definitely a moment to pause and to reflect cause things have come full circle.
The circle started way back in 2012 when I randomly asked folks if they would come to a conference-like event just for folks in the rhetoric of health and medicine. Folks came. And at alternate times during those two days and in particular, in the last session, the discussion came around to a journal.
In the ensuing years, and after I sort of cajoled Blake Scott (mon cher ami; merci beaucoup!) to help me out with the heavy lifting, we worked at building a community, gauging interest, writing and revising proposals, talking to decision makers, talking to senior scholars, and engaging with the community. In November of 2016, the University of Florida Press board agreed to take a chance on us–on the RHM community. And thus, a journal was born. (Here is the moment for me to say a huge THANK YOU to Linda Bathgate, who always believed in this idea and this community!)
And today, RHM becomes officially live to the world: http://journals.upress.ufl.edu/rhm/index
I'm a little in awe of it.
So when I say that things come full circle, today marks the moment where the idea to launch a journal has moved from a nascent flicker into a thing…a material thing where folks can submit and subscribe. It's a moment where you can see the tangible results of a lot of hard work, where service and research collide in meaningful ways.
This will forever remain a moment where I am humbled by the generosity of this community and emboldened by your energy and enthusiasm and so very thankful to be a part of it.
Now to start the next circle of building it into the PLACE for RHM scholarship. Blake and I will keep the scholarly bar high so it's time for the community to submit your work! 🙂
Onward.
Save